5 Best Simple Blouse Designs for Any Occasion
The blouse is a traditional dress for women, especially in India. At the very beginning, a blouse was worn with sarees. Then eventually, according to religion, tradition, and culture, the blouse has changed its partner. Nowadays, it can be worn with any dress.
However, there is a problem with the blouse. Too many designs on the blouse look good but didn't match with every dress. It's a problem because modern dressing sense has been improved. That's why investing your money in designer blouses will go in vain.
It is always better to select simple blouse designs. Here, in this article, you'll know such 5 best Simple Blouse Designs. Not only these are good looking but also suit any other dresses.
1. Neck Stretchable Black Blouse
The specialty of this blouse is, it's stretchable. The nets of the blouse are making a flexible structure. Not only this fine design makes this blouse attractive but also creates a separate definition of style.
Only the upper part of the blouse contains style and transparency. Overall the black colour is the main theme of the blouse. 4-ways stretch fabrication is done on this blouse.
The main fabricating element is cotton. Some other elements are being used too. The main purpose of this blouse is to provide a comfortable and breathable environment.
There is no struggle required to wear this blouse. Easy to wear, the easy hooking system won't be a reason to fight with yourself.
With good quality finishing, design, and detailing, this blouse can be used with any sarees, any dress. Perfect to wear at parties, casual outings, and everywhere else.
2. Ocean Fashion Fantom Silk Blouse
Simplicity is the main attraction of this blouse. As you can see, the fine lines on the blouse with zero designs, making this blouse a style icon. Even women can wear it without sarees or other dresses.
As mentioned in the name, silk is the main component of this simple blouse designs. For those who are habituated with silk dresses, it will be a gem. In summer, you may feel a little uneasy especially those who aren't habituated with silk. But unlike other silk products, this product has a different composition. You'll feel comfortable.
The backside of the blouse is more attractive and stylish. There is no hooking system. The stylish binding threads will give the perfect look.
In the front part, the chain is given to adjust the size. The greyish-white color of this blouse can be worn in any function. Though there are multiple colors for this blouse however only this color matches with every single dress. Otherwise, you can choose any color for yourself.
3. Madhu Raw Silk Blouse
Not only half sleeves are eye-catching if you have the taste of dressing, but you must also try sleeveless blouses too. If you are ready, then you must try Madhu Raw Silk Blouse. A total of 6 colors are there however blue is the most attractive one. You can choose others also.
The neck part is round in design. The simple blouse designs is available in all preferable sizes. It is not stretchable but can give you a perfect comforting environment if you choose the correct size.
The main component of this blouse is silk. The half sleeve nature will allow you to move your hands freely.
The blouse has two types of closure systems. One is the stylish blinding threads that will make you gorgeous when be hanging around back. And the second one is the hook.
The stitching done here is fine and stylish. Not only pure silk is there. Some amount of cotton is being added to the blouse for extra comfort. Easy to wear, easy to clean, wear wherever you want.
4. Janasya Cotton Lycra Blouse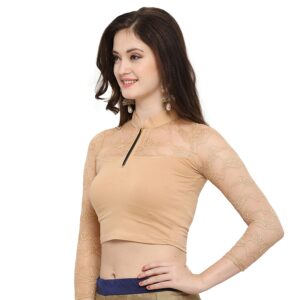 This blouse is available in 3/4th sleeve. This simple blouse designs can give you a completely different look than others. The banded collar with a chain will make you more attractive.
The main component of the product is cotton lycra. Some amount of silk is there too. The fabrication of this blouse is being done on 4-way stretch fabric. The hand portions and upper part of the blouse are transparent and full of designs.
There is no other specific closure system at the back. The only option is the chain near the neck. As cotton is being used in manufacturing, no suffocation will be there.
More than 500 colors are there. However, the black or the biscuit color will be perfect for everybody. It is available in various sizes. It will look perfect with any dress likes sarees, jeans, and others.
However, there is one drawback to this blouse. As very fine but simple blouse designs have been done on it, you must avoid rough cleaning, otherwise, the structure will get disturbed. Always use cold water washing to keep the brightness and stability intact.
5. Vamas Short Sleeve Choli Blouse
In the western part of India, the tradition of wearing choli is very popular. Choli is almost like a blouse, better to say a modified version.
This Vamas Short Sleeve Choli is available in various colors. You can choose any of these. However it is recommended to choose the choli according to the color of the rest of the dress.
There is a 'V' cut at the bottom of the choli or blouse. The 'V' cut pattern is the main theme of this blouse. This half sleeve blouse has a fine border. The Design is not at all light, strongly gripped with the blouse. Surely it will make anyone gorgeous.
Two types of closure systems are being used here. The binding threads have a separate design at the tips. And hooks are there at the back portion of the blouse.
The main material of the blouse/ choli is silk. Some amount of cotton is being hybridized with this blouse that makes it comfortable to wear anytime anywhere.
Conclusion
As promised, the best 5 designed blouses are shown here. If you get stunned by the simplicity and the beauty of the blouses, you must give these at least one try. Sleeveless, half sleeve, 3/4th sleeve, all the possible types are here.
We can assure you, you'll get the best comfort in these blouses. So try these for your next outing.